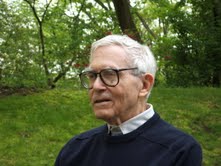 Robert Lane
Founder
"Born in 1917, I was twelve when the stock market crashed in 1929, coming to intellectual adulthood during the Great Depression and the New Deal years. As the son of a sometime professor and Executive Director of the Welfare Council in New York City (1933-1943) and with my mother a progressive teacher and principal of elite private schools, I was further made sensitive to The Left."
So begins the intellectual autobiographical sketch of Robert Lane, retired Yale Professor of Political Psychology and founder of Gray Is Green. His academic career at Harvard led him away from "the arid, math-centered study of economics" and toward "the ways psychologists went about their work." After describing his intellectual journey as a series of focal questions culminating in his books, he quips, "At age 96, I am studying the theory and practice of immortality."Bob Lane is an activist, beginning his political memoir with: "This is a set of anecdotes from the life of a youth and man who was never at home in this world, always challenging authority while desperately wanting to be liked by that authority. In his privileged and sheltered life (private schools, educated at Harvard University and teaching all his professional life at Yale) this protected Timid Rebel tilted at both real and imaginary windmills…"
These anecdotes track decades of highlights from a courageously out-spoken man who is also discerning about a time and place for below-the radar action. What matters now?
Kathleen Schomaker
Executive Director
Kathleen Schomaker joined Gray Is Green in 2010 as her encore career. Having worked in environmental education and advocacy for over 30 years, she now focuses that expertise as Executive Director of the premiere non-profit organization serving older Americans.
In meeting with communities around the country to introduce Gray Is Green, Kathleen fosters generational leadership to make neighborhoods, cities, and eventually the world, healthy and affordable places in which to live well, then pass on to our next generations.
Kathleen acquired a love of the outdoors during her rural Kentucky childhood, and spent the next 20 years in Ohio enjoying city life. Since 1993 she has enjoyed calling Hamden, CT, her hometown. In Hamden she is serving her fifth term in elected office on Legislative Council as a means of promoting local community resilience. Her professional education includes a Master of Environmental Management degree from Yale School of Forestry & Environmental Studies. She was also part of the 2012-1013 cohort of GreenFaith Fellows, a national network of interfaith-inspired environmental activists.
In her off hours you might catch her singing, memorizing poems, dancing, bicycling, hiking, gardening or kibitzing with neighbors about local matters.
"Life is good!"
Harry R. Moody, Ph.D.
President
Harry (Rick) Moody, Ph.D., recently retired as Vice President and Director of Academic Affairs for AARP in Washington, DC. He is currently Visiting Professor at Tohoku University in Japan, and Distinguished Visiting Professor at Fielding Graduate University. Dr. Moody previously served as Executive Director of the Brookdale Center on Aging at Hunter College and Chairman of the Board of Elderhostel (now Road Scholar).
Dr. Moody is the author of over 100 scholarly articles, as well as a number of books including: Abundance of Life: Human Development Policies for an Aging Society, Ethics in an Aging Society and Aging: Concepts and Controversies, a gerontology textbook now in its 7th edition. His most recent book, The Five Stages of the Soul, was published by Doubleday Anchor Books and has been translated into seven languages worldwide.Dr. Moody has been instrumental in the development and update of the Certified Senior Advisor course and curriculum. He has worked with the Society of Certified Senior Advisors since its inception to create the CSA Textbook, Working with Seniors: Health, Financial and Social Issues and has been a long standing consultant and advocate for SCSA.
A graduate of Yale (1967) and a Ph.D. in philosophy from Columbia University (1973), Dr. Moody taught philosophy at Columbia, Hunter College, New York University, and the University of California at Santa Cruz. From 1999 to 2001 he served as National Program Director of the Robert Wood Johnson Foundation's Faith in Action and, from 1992 to 1999, was Executive Director of the Brookdale Center at Hunter College. Before coming to Hunter, he served as Administrator of Continuing Education Programs for the Citicorp Foundation and later as Co-Director of the National Aging Policy Center of the National Council on Aging in Washington, DC.
Harry Moody is known nationally for his work in older adult education and recently stepped down as Chairman of the Board of Elderhostel. He has also been active in the field of biomedical ethics and holds appointment as an Adjunct Associate of the Hastings Center.
In recent years he has been an invited speaker at Yale, Stanford, Notre Dame, Brown, the University of Yokohama, and the Chattauqua Institution. He has frequently been interviewed on TV and radio about Elderhostel and personal growth in the second half of life.
Neva Goodwin
Executive Board
Neva Goodwin is active in a variety of attempts to systematize and institutionalize an economic theory – "contextual economics" – that will have more relevance to contemporary real world concerns than does the dominant economic paradigm. She has edited more than a dozen books, and is the lead author of two introductory textbooks: Microeconomics in Context and Macroeconomics in Context. The the micro text is available in Italian; a Transitional Economies Edition was translated into Russian and Vietnamese.
Over the past decade Dr. Goodwin led the creation of a "social science library" called Frontier Thinking in Sustainable Development and Human Well-Being, which contains nearly 10,000 full bibliographic references, representing seven social sciences, and including full text PDFs for a third of the referenced articles and book chapters. This is being distributed widely in 138 developing and transitional countries, with special efforts to reach institutions with poor or no Internet access.
In other activities, e.g. as co-chair of the board of the New Economiy Coalition, Dr. Goodwin seeks ways to translate an understanding of the economy in its full social and ecological contexts into action and policy. She also seeks a deeper theoretic understanding from exposure to on-the-ground experiments in alternative socio-economic institutional design, and is involved with efforts to motivate business to recognize social and ecological health as significant, long-term corporate goals.
Dr. Goodwin received a MPA from Harvard Kennedy School ('82) and a Ph.D. in Economics from Boston University ('87).
James Gustave Speth
Executive Board
James Gustave Speth is Professor of Law at the Vermont Law School and a senior fellow at Demos, the Democracy Collaborative, and the Tellus Institute. He served as Dean of the Yale School of Forestry and Environmental Studies from 1999 to 2009. From 1993 to 1999, Dean Speth was Administrator of the United Nations Development Programme and chair of the UN Development Group. Prior to his service at the UN, he was founder and president of the World Resources Institute; professor of law at Georgetown University; chairman of the U.S. Council on Environmental Quality; and senior attorney and cofounder, Natural Resources Defense Council.
Throughout his career, Dean Speth has provided leadership and entrepreneurial initiatives to many task forces and committees whose roles have been to combat environmental degradation, including the President's Task Force on Global Resources and Environment; the Western Hemisphere Dialogue on Environment and Development; and the National Commission on the Environment. Among his awards are the National Wildlife Federation's Resources Defense Award, the Natural Resources Council of America's Barbara Swain Award of Honor, a 1997 Special Recognition Award from the Society for International Development, Lifetime Achievement Awards from the Environmental Law Institute and the League of Conservation Voters, and the Blue Planet Prize. He holds honorary degrees from Clark University, the College of the Atlantic, the Vermont Law School, Middlebury College, the University of South Carolina, Unity College, and the University of Massachusetts/Boston. Publications include America the Possible: Manifesto for the New Economy, The Bridge at the Edge of the World: Capitalism, the Environment, andCrossing from Crisis to Sustainability, Global Environmental Governance, and Red Sky at Morning: America and the Crisis of the Global Environment. His most recent book is a memoir, Angels by the River, available in October 2014.
Professor Speth currently serves as honorary director at the Natural Resources Defense Council and World Resources Institute and is on the boards of the Climate Reality Project, the Center for a New American Dream, and the New Economy Coalition. He is an advisory board member at United Republic, 350.org, EcoAmerica, Labor Network for Sustainability, New Economy Working Group, SC Coastal Conservation League, Environmental Law Institute, Vermont Natural Resources Council, Southern Environmental Law Center, Heinz Center, Free Speech for People, Vermont Institute for Natural Science, the Northwest Earth Institute, and the Carbon Underground.
William B. Ellis
Executive Board
Bill Ellis is Lecturer and Resident Fellow at the Yale School of Forestry and Environmental Studies where he is on the faculty for the Industrial Environmental Management Program. He joined the School in 1995 just after retiring from Northeast Utilities, New England's largest electric and gas utility. He had served that company as its chief financial officer beginning in 1976 and was the company's chief executive officer for ten years before retiring.
Mr. Ellis is on the Board of Directors of the Center for Climate and Energy Solutions and on the Board of Trustees and several academic advisory boards at Carnegie Mellon University. Over the past thirty years, he has served on numerous corporate boards, including MassMutual Financial Group, HSB Group, and Renegy Holdings, Inc., a renewable energy company focused on acquiring, developing, and operating biomass-to-electricity power-generation facilities, and he presently is on the Advisory Board of Soltage, Inc., a solar-facility development company.
Mr. Ellis received his B. S. in chemical engineering from Carnegie Mellon University and his Ph.D. in chemical engineering from the University of Maryland, where he was a National Science Fellow. He was selected as the Businessperson of the Year by New England Business Magazine in 1987 and New Englander of the Year by the New England Council in 1994. Mr. Ellis was recognized several times for his leadership in developing and promoting programs to fight HIV/AIDS. His primary academic interests at Yale are in the links between energy use and the environment and in business decision-making processes as they are related to environmental concerns.
Marlene Varner
Executive Board
Currently Chairman of the Residents Council and a member of the Board of Directors at Deerfield Episcopal Retirement Community in Asheville, NC, Marleen has been involved with Gray is Green since its early days. As Editor of the National Continuing Care Residents Association LifeLine, she keeps a focus on environmental issues for residents of CCRCs in this bimonthly national publication.
While living in Sewanee, TN, she served as Secretary of the Episcopal Diocese of Tennessee Living in Creation Task Force, and became a life member of the South Cumberland Land Trust. Since 2008, she has served on the Planning
Committee for the Annual Caring for Creation Conference at the Lake Junaluska, NC Methodist Conference Center. She serves on the Creation Care Committee at All Souls Cathedral in Asheville, as she did at Otey Parish in Sewanee, TN.
Marleen served on the American Association of Homes and Services for the Aging (now LeadingAge) House of Delegates from 2008-10. She is currently active in the NC Center for Creative Retirement and Leadership Asheville Forum.
She is a long time volunteer with the AARP Tax Aide Program. Marleen's career was in higher education as a student financial aid director in the pubic and private sectors and was founding director of the state grant programs for the Kentucky Higher Education Assistance Authority.
Mary Evelyn Tucker
Advisory Board
Mary Evelyn Tucker is a Senior Lecturer and Research Scholar at Yale University where she teaches in a joint master's degree program between the School of Forestry and Environmental Studies and the Divinity School. She directs the Forum on Religion and Ecology at Yale with her husband, John Grim.
Her special area of study is Asian religions. She has lived in Japan for several years and received her Ph.D. from Columbia University in Japanese Confucianism. Since 1997 she has been a Research Associate at the Reischauer Institute of Japanese Studies at Harvard. Her Confucian publications include: Moral and Spiritual Cultivation in Japanese Neo-Confucianism (SUNY, 1989) and The Philosophy of Qi (Columbia University Press, 2007). She edited two volumes on Confucian Spirituality (Crossroad, 2003, 2004) with the renowned Confucian scholar, Tu Weiming.
Her concern for the growing environmental crisis, especially in Asia, led her to organize with John Grim a series of ten conferences on World Religions and Ecology at the Center for the Study of World Religions at Harvard (1995-1998). Together they are series editors for the ten volumes from the conferences distributed by Harvard University Press. In this series she co-edited Buddhism and Ecology (Harvard, 1997), Confucianism and Ecology (Harvard, 1998), and Hinduism and Ecology (Harvard, 2000). Tucker also wrote: Worldly Wonder: Religions Enter Their Ecological Phase (Open Court Press, 2003).
After the conference series she and Grim founded the Forum on Religion and Ecology at a culminating conference at the United Nations in 1998. The Forum is now based at Yale. To help shape this new interdisciplinary field they edited Worldviews and Ecology (Orbis, 1994) and a Daedalus volume titled Religion and Ecology: Can the Climate Change? (2001). Together they were contributing Editors for the Encyclopedia of Religion (2nd edition) and organized 12 articles on religion and ecology. They have published a new book, Ecology and Religion (Island Press, 2014) that they will use in online classes from Yale on this topic. They have developed a comprehensive website at Yale www.yale.edu/religionandecology and have an online newsletter that reaches some 10,000 people.
Tucker and Grim studied world religions with the historian of religions, Thomas Berry, and worked closely with him for 35 years. They are the managing trustees of the Thomas Berry Foundation. Tucker edited several of Berry's books: The Great Work (Random House, 1999), Evening Thoughts (Sierra Club Books and University of California Press, 2006), The Sacred Universe (Columbia University Press, 2009), and with Grim, The Christian Future and the Fate of Earth (Orbis, 2009). They have edited and introduced a selection of his writings to be published in the Modern Spiritual Masters Series from Orbis in 2104.
To bring Berry's work forward Tucker has worked with evolutionary philosopher, Brian Swimme, for some 25 years. In 2011 they released a multi-media project called Journey of the Universe – a book from Yale University press, an Emmy award winning film shown on PBS and available on Netflix, and a series of 20 interviews with scientists, historians, and environmentalists. The website for this project is www.journeyoftheuniverse.org
Tucker has been involved with the Earth Charter since its inception. She served on the International Earth Charter Drafting Committee from 1997-2000 and was a member of the Earth Charter International Council for ten years.
She also serves on the Advisory Boards of Orion Magazine, the Garrison Institute, and Climate Central.
Mary Catherine Bateson
Advisory Board
Mary Catherine Bateson is a writer and cultural anthropologist living in the Monadnock region of New Hampshire with frequent visits to Cambridge, Massachusetts. She has written and co-authored many books and articles, lectures across the country and abroad, and has taught at Harvard, Northeastern University, Amherst College, Spelman College and abroad in the Philippines and in Iran. In 2004 she retired from her position as Clarence J. Robinson Professor in Anthropology and English at George Mason University, and is now Professor Emerita.
Since the Fall of 2006 she has been a Visiting Scholar at the Sloan Center on Aging & Work at Boston College. She has served on multiple advisory boards including that of the National Center on Atmospheric Research, dealing with climate change.
Linda Sorrells-Smith
Support Team
With experience in a variety of professional contexts—including retail, education, technology and scientific industries–Linda has taken on the development of advertising campaigns for web, multimedia, radio and print.
Linda has also produced annual reports, training program materials, web site designs, retail signage, exhibition displays, social media engagement, and other communication methods unique to situations and audiences.Having received the Impact Community Development Award for Business Entrepreneurs, the Consolidated Paper Award for Excellence in Graphic Design, as well as other awards and recognitions throughout her career for her work, as well as her volunteer efforts, she is devoted to investing in our youth. Her passion includes giving back in a manner that helps others set forth to achieve their goals and dreams. Establishing goals that help to communicate defined purpose, is an integral part of how she helps others communicate who they are.
Jesse Broome
Support Team
Jesse Broome is a seasoned online marketing and business consultant with a successful track record in the planning and delivery of large-scale, digital branding strategies and projects across various industries including healthcare, education, B2B and B2C sales, fashion, and entertainment.
Jesse's expertise is concentrated on content that brings ideas, concepts, products, and brands to life, implementing a creative spin that perfectly aligns the clients' vision with the ultimate result.
As a marketing management professional, Jesse has the proven ability to set realistic expectations, create accurate deadlines and budgets, lead diverse teams, manage client relationships, resolve critical campaign issues, and deliver consistent results. In the past, Jesse has advised start-up ventures and SMBs in strategic marketing, web operation expansion, branding strategy, social media methodology, and IT solutions. Jesse has also overseen the strategic planning and development of web applications, web/micro-sites, e-commerce solutions, mobile applications, search engine marketing campaigns, and social media marketing while consulting with clients on information architecture, usability, user experience, and digital strategy.