In this era of digital communication, in-person presence is still a powerful tool. Marches, sit-ins, rallies, and other events provide avenues to use our bodies and our voices in resisting environmental injustice.
Civil disobedience, a concept popularized by Thoreau in his 1849 writing "Resistance to Civil Government," is founded on two ideas: the people give the government its authority and can thus challenge that authority; and we must hold justice higher than law written by a government.
The action of intentionally disobeying the law or disrupting public space in protest of law has a strong history, beginning when Mahatma Gandhi employed it in the early 20th century to demand civil rights in South Africa. Our own country's civil rights movement relied heavily on civil disobedience as well, and it continues to be one of the most powerful actions citizens can take in challenging unjust laws.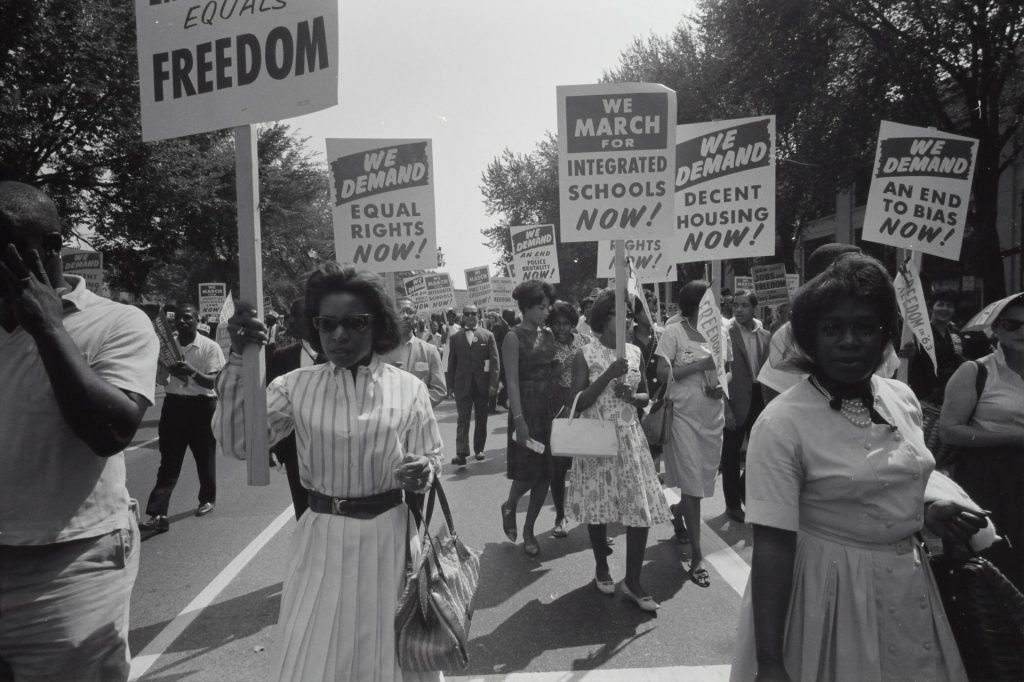 As elders, we often have the time and financial security that younger generations do not to give to such actions: we will not lose our jobs and can risk being arrested. We can use this privilege to show up and lend our presence to the younger generations often spearheading these events.
Protest events happen on all scales, from large events such as the Global Climate Strike in September 2019 to local gatherings that speak out on water protection or other specific issues. To find out about environmental protests happening in your area, use Indivisible's Find an Event tool.
To be as effective and comfortable as possible at a protest, follow these tips.
Dress for comfort. Wear your walking shoes and pack layers of clothing so you can stay warm as the temperature changes.
Pack water and snacks. You'll likely be out for many hours, between getting there, marching or standing, and getting home, so prepare for this. Pack extras to share, because someone always forgets.
Know the plan. Check out the protest route ahead of time and the schedule. Aware protestors are more effective than those who need to be told what's happening.
Stick together. Bring a friend or two for solidarity, and hang close to the larger group as well. Don't worry about stopping at crosswalks (as long as you're being safe)—the idea is to disrupt public space.
Bring your chanting energy. Civil disobedience is about being heard, so be ready to speak up. You can clap and bring noisemakers as well, but join in what the crowd is doing. There will be people leading chants, which are often call and response. They will direct their voices to you, and you should direct your voice out into the public space around you.
Prepare for the worst. Pack with you a half-and-half mix of water and alcohol-free Maalox, which is for rinsing pepper spray from your eyes and other mucous membranes. And have a lawyer's number written on your arm.
Know your rights. The ACLU provides a good guide to protester rights. Read this ahead of time and come prepared to document anything that may happen to you or a friend.
Do what you're able. Not everyone can walk the streets, and that's OK! If marching is beyond your ability, look for rallies or sit-ins. Or spend your energy contacting representatives and speaking at public hearings on local issues.
Further reading: Kumi Naidoo: my five lessons in civil disobedience
Sign up for newsletters of local environmental organizations to find out about upcoming actions
Form a group of peers who will attend events with you
Find out about protests and rallies on indivisible.org